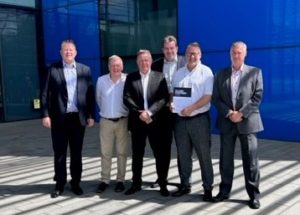 Social Print & Copy CIC (SP&C), Scotland's leading charity supplier of copier and office solutions, has teamed up with Canon UK&I to deliver a series of workshops aimed at breaking down barriers to work for young people.
The day-long sessions will be delivered by Howard MacKinnon, Learning & Development Specialist for Canon UK&I Partner Channel, and will run for three months, beginning on Thursday, 21 September with the final one held on Thursday 23 November.
All three workshops will be staged at SP&C's Glasgow office in the city's Enterprise Park and the modules will cover a range of topics including basic social media, CV writing, setting up bank accounts, time management, personal brand, understanding basic HR and what is expected of an individual in the workplace.
A series of different tasks will come from these events such as team building and collaborating in the work place.
SP&C became the first social enterprise to partner with Canon in the UK last year and the workshops further strengthen that partnership.
Welcoming the move, SP&C chief executive Ian Gray said: "This is really good news and a feather in the SP&C cap.
"We enjoy an excellent relationship with Canon as a corporate partner and they are making their resources available to help us deliver the community wellbeing we want to roll out from our business.
"We are committed to boosting local employment and removing barriers to work for young people and these educational workshops will help greatly with that.
"It's been great to see the development of the business, particularly over the past year or so. A lot of time and effort has gone into putting this growth plan together, and the Canon partnership is a key element for us.
"Our growth in terms of the delivery of product and services gives us a strong foundation to deliver training for young people and our aim is for these workshops to lead people to a career and give them opportunities and choices they perhaps haven't had before.
"At the very least they will give participants a good grounding, helping them learn both about the workplace and general living."
Howard MacKinnon said: "It is a pleasure to work with Social Print & Copy to help support their groups of young people.
"This is a fantastic programme which will provide the young people some of the life skills required within the working world. I am excited to get the first workshop started and then follow the journey of the delegates as they progress."